News
Book Reviews
THE NATIONAL HERALD We are in Exile / Estamos En Galut by Mara W. Cohen Ioannides
JEWISH INDEPENDENT The Sephardic Book of Why by Rabbi Ilan Acoca
KIRKUS REVIEW The Boy Who Had A Peach Tree Growing Out Of His Head by Hal Ackerman
ONLINE BOOK CLUB Lost Memories and New Beginnings: Unearthing family secrets from the Holocaust by Shlomo Liberman
REFORM JUDAISM Dancing in the Palm of God's Hand by Stacey Zisook Robinson
NEW JERSEY JEWISH NEWS Trenton's Jews by Arthur L. Finkle
BOOK Q & As with DEBORAH KALB The Education of the Daffodil by Yermiyahu Ahron Taub
Stephen M. Cohen and Caryn Alter
Local genealogists offer guide to finding roots of family trees: 'What's in a Name?' provides tools for lineage searches
A family history project that Stephen Cohen did in second grade taught him the most essential skill for successfully conducting research on a family's genealogy — interviewing living relatives. But what really sparked his lifelong interest in genealogy at the age of 7 was the memory his paternal grandfather shared of the terrible winters in his native Ukraine, where "the snow was piled so high between the houses that they had to dig tunnels to go from one house to another," Cohen told NJJN.
For Caryn Alter, it was a paper she wrote at Douglass College on some long-lost Russian cousins her aunt and grandfather had found. They shared some previously missing information that motivated Alter to send questionnaires to relatives all over the United States and Israel, asking them to send her material on that branch of the family and any stories they had. In spurts, over time, she also recorded her grandparents on cassette tapes and videotaped her mother, aunt, and mother-in-law as she searched for more information.
Now, Cohen, a resident of Hightstown, and Alter, of East Windsor, have turned their passion for digging into family backgrounds into a guide for budding genealogists, teens in particular. "What's in a Name? A Young Person's Jewish Genealogy Workbook" (Hakodesh Press, 2017) grew out of an effort to generate interest in the Genealogy Club at Beth El Synagogue in East Windsor, where Cohen and Alter are congregants and were founding members of the club about a decade ago.
Before the Internet, tracing family history was much more difficult, Cohen said, but he managed to identify his forebears back to the mid-1800s, based on interviews with relatives. Seeking to acquire more tools to further his genealogical pursuits, he studied Yiddish for two years at the University of Pennsylvania, where he was a chemistry major. In researching Eastern European Jewish families, he said, "there is some value" in learning the language, "but it is not a panacea." Knowing the "mamaloshn" did enable him to speak Yiddish to his two children from birth, with the result that they are both fluent.
With the advent of the Internet, Cohen said, "all the Jewish genealogists were either creating databases of information or discovering governmental databases or commercial databases." The resulting on-line trove was that on-site research was no longer necessary. "Once you start using databases you don't have to go to Warsaw to visit a gravesite anymore," Cohen said.
Since tapping into sources available on the Internet, Cohen has traced certain branches of his family back to the 1760s; Alter has tracked some of her ancestors to the 1800s.
As they designed their book, the two kept in mind the varied interests of their target audience of teens — history, languages, science and technology, and math.
"Code breaking," for example, was their approach in the chapter on deciphering gravestones, Cohen said. "There are dozens of abbreviations used on gravestones, and they are not consistent over time." To aid non-Hebrew readers, this chapter has a chart showing the Hebrew acronyms and numbers that are commonly used on gravestones.
Two examples in that chapter come from the authors' own research. Cohen contributed the gravestone of his great-great-uncle, Michael Newman, from whom he got his middle name. "He is buried in the Catskills in a very obscure, tiny grave, in a tiny cemetery, and it took several years to find," Cohen said. His uncle had immigrated to America, where he worked in sweatshops. When he contracted tuberculosis, he moved to Ellenville, N.Y., after a doctor told him he would be better off in the clean mountain air of the Catskills.
Alter included graves she found in an old Jewish cemetery outside the town of Polana, Ukraine, where her father-in-law grew up. A trip there was inspired by a personal ID card for her father-in-law that she had located on the website of the Yad Vashem Holocaust memorial and research center in Jerusalem; these cards, kept on file for every prisoner who was interned in the Mauthausen concentration camp, detailed "name, height, hair color, eye color, what language he spoke."
Other chapters in "What's in a Name?" explore the shifting borders of countries where Jews lived and how Jews were treated as the governments changed; how to transfer recordings from cassettes to digital format; how to raise difficult topics like adoption, conversion, or the Holocaust with family members; and how to gather information via the Internet and other sources.
The most valuable research sites, Cohen said, are jewishgen.org, the central website for Jewish genealogy; ancestry.com, a commercial database; and familysearch.org, run by the Mormons. He has also used Facebook effectively to contact Facebook friends of his cousins who have the same name; using this tool, he has successfully added 150 people to his family tree in the past year.
United States Census records are also helpful, although they are available only every 10 years, and the last one open to the public is the 1940 census. Cohen has also used the International Red Cross's tracing service and Yizkor books, volumes about towns decimated during the Holocaust; many such books are available online through the New York Public Library's Jewish collection.
"What's in a Name?" is available in black and white on Amazon, but Cohen recommends the color version, which can be purchased at morebooks.de. Cohen and Alter are also available to make book presentations at local synagogues and genealogy clubs.
The two authors, bringing their varied skills to the table, worked well together. "Steve is a wonderful technical person and good with graphics and computers; I like writing and don't mind proofreading," Alter said. "We wrote everything together; we had a symbiotic relationship."
New Jersey Jewish News – January 2, 2018, by Michele Alperin, NJJN Contributing Writer
link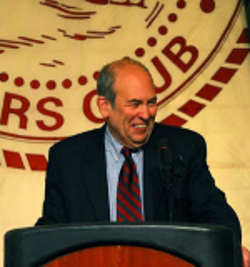 Arthur L. Finkle
A longtime Ball Tekaih who has appeared over the years at area synagogues, including Congregation Kol Emet in Yardley and Brothers of Israel in Newtown, is the author of the new book, Shofar: History, Technique and Jewish Law, published by Hakodesh Press. This is the second shofar-centric book by the Langhorne resident, after his 2000 tome, The Easy Guide to Shofar sounding.
A Baal Tekiah for 30+ years, Arthur L. Finkle supervised religious school activities in New Jersey and Pennsylvania.
A Phi Beta Kappa, he graduated from The Wharton Graduate School. Fostered by the New Jersey Courts as a mediator, he is a Chair of the Workplace Section, Association for Conflict Resolution.
Jewish Exponent – July 23, 2015 (Philadelphia, PA Jewish Federation NewsPaper)
Local author to discuss history of Trenton's Jews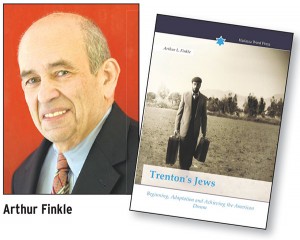 New Jersey Jewish News – June 6, 2016
NJJN
Arthur Finkle, chair of the revitalized Trenton Jewish Historical Society, will offer a historical view of the community on Sunday, June 19, at 7:30 p.m. at Beth El Synagogue of East Windsor.
While doing archival research for the society, Finkle, whose roots in the city reach back three generations, realized there was no fully documented work on Trenton's Jewish history — so he wrote one. The book that grew out of his studies, Trenton's Jews: Beginning, Adaptation and Achieving the American Dream, was published in 2016 by Hakodesh Press.
Finkle's family arrived during the wave of immigration of Russian Jews between 1880 and 1914. His great-grandfather was president of the first Trenton congregation, Brothers of Israel (founded in 1883 and now in Newton, Pa.), from 1890 to 1900, and president of the city's second shul, Anshe Emes. His grandfather founded the Jewish Republican Club and Trenton's Talmud Torah.
Finkle will also discuss the origins and history of Beth El at the program, which is sponsored by its Genealogy Club.
Rabbi Barbara Aiello at the United Nations in New York City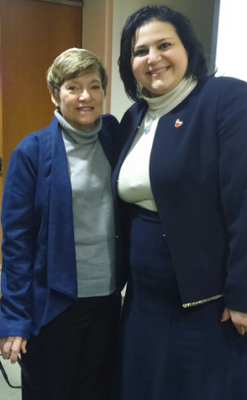 On March 4, 2016 Rabbi Barbara Aiello was one of several featured presenters at the United Nations in New York City. The event, organized by the Humpty Dumpty Institute (HDI), a non-governmental organization dedicated to enhancing ties between the US Congress and the United Nations, brought together experts from around the world to discuss ways in which members of minority religions can work effectively within a particular country's religious majority.
Rabbi Barbara Aiello, the author of "The Cat That Ate the Cannoli – Tales of the Hidden Jews of Southern Italy," was invited to present programs and projects that are described in her book. In a December meeting held at the United Nations, Rabbi Barbara presented her book to Dr. Shaikh Abdulla Bin Ahmed bin Abdulla Al Khalifa, Undersecretary for International Affairs for the Foreign Ministry of Bahrain, the sponsor of the historic meeting. As a result, Rabbi Barbara was invited to the March meeting as a featured speaker.
Ms. Nancy Khedouri (right) Jewish member of Bahrain Parliament and featured speaker on the Religious Pluralism and Tolerance Bahrain Project, with Rabbi Barbara (left). Ms. Khedouri spoke passionately about her country's initiative of religious tolerance and acceptance for all of Bahrain's minority religious groups. After receiving a copy of Rabbi Barbara's book, "The Cat That Ate the Cannoli – Tales of the Hidden Jews of Southern Italy", Ms.Khedouri was instrumental in bringing Rabbi Barbara to the United Nations where she expanded on her work in religious pluralism in Italy.
Simi Horwitz wins at 2016 National Arts & Entertainment Journalism Awards
Simi Horwitz, the author of Jewish Art Today: News, Views and Cultural Trends, was awarded at the 9th Annual National Arts & Entertainment Journalism Awards for her story Jews of Al-Jazeera.
The National Arts & Entertainment Journalism Awards are presented by the Los Angeles Press Club and celebrate journalistic excellence in print, radio, television, and the internet.